IRONTINA (pronounced "Irodina")
Irontina is a young Greek singer. She was born in 1986. She began singing at a very early age and in 1997 won the first prize in the Greek national song contest.
Later, in 2001, she obtained the first prize in the song contest of the Balkan countries.
The important year for her, was 2004, when she recorded four songs of Stamatis Spanoudakis for the Pantelis Voulgaris, film "Brides" produced by Martin Scorsese in June 2005 she sang for Stamatis at the Athens Festival in the Herodion Atticus Theatre.
Here are some photos of her taken at this concert and the rehearsal along with photos at the Peania, Athens concert in October 2005.
There are also some personal portraits that I took of her the day after.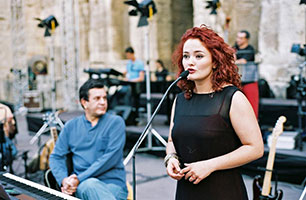 All rights reserved