LIVE IN CHINA
Stamatis Spanoudakis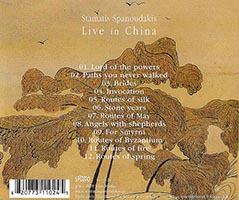 The recording of the album was made on Friday 19th of October 2007 at the "Poly Theatre" in Beijing, China. It was part of the inaugural ceremony of the "2008 Cultural Olympics" leading to the 2008 Olympic Games held in China.
The album contains several familiar pieces of Stamatis but above all, several new compositions that were later re-recorded and used in the album Alexandros 11, Paths You Never Walked.
This album is available on iTunes, AMAZON and cdbaby.com and from most record stores throughout Greece as well as many of his previous albums.


All rights reserved